By: Aaron Lai
September 22, 2023
A couple of weeks ago, my friend and colleague, Jonathan Kwan, became a married man. He had asked me to be one of his groomsmen, so the day included a couple of responsibilities on top of the festivities. During the rehearsal, we realized Jonathan picked the Top Gun anthem to walk down to, so as a group we decided to get aviators and all walk down in sunglasses. If you have not seen me before, you should know I wear glasses and my prescription is terrible. However, I did not want this limitation to stop the rest of the party, so I went along with the plan. Unfortunately, I forgot to realize the ceremony was held in a darker indoor area and the aviators only worsened the problem. Thankfully, I was able to see enough of a visual contrast between the large white carpet runner and the rest of the floor to make it down the aisle without stumbling on anything. We had asked Jonathan if he wanted to also wear sunglasses, but he was adamant he would not be able to see, and I could understand why. Walking down blind, especially as it was his wedding, would not be a good start, especially if he were to veer off course or trip on an obstacle. In a similar fashion, I think it is brave but potentially dangerous for companies to enter into a product segment without previous experience. However, this is not a problem today, as we have the Cooler Master V SFX Platinum 1100W. Cooler Master is no amateur when it comes to SFX power supplies, as we have seen their V850 SFX Gold in the past. However, how does today's unit compare with its increased output and efficiency? Let us read on to find out!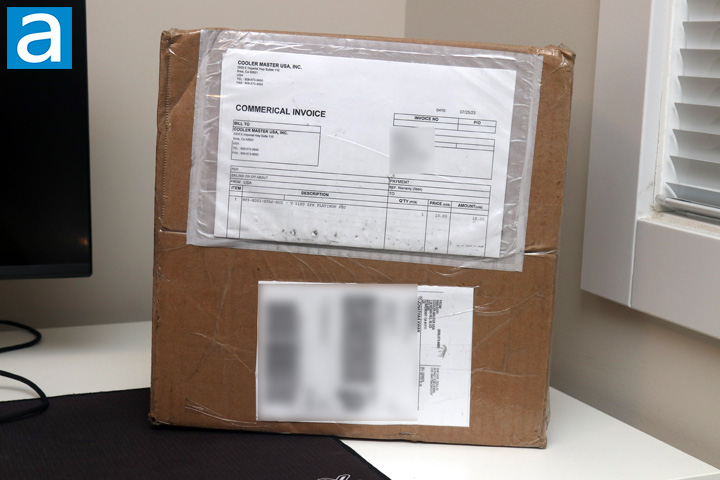 Today's review unit of the Cooler Master V SFX Platinum 1100W arrived from Cooler Master's offices in Claremont, California, USA. Traveling with FedEx and their International Ground service, this brown corrugated cardboard box arrived at our APH Networks offices here in Calgary, Alberta, in good condition with no real issues to speak of. The box was packed full with air pockets to prevent any damage to the box within. Furthermore, Cooler Master shrink wraps their power supplies to prevent surface scratches before it gets to the customer. Otherwise, there is not much else to speak of here.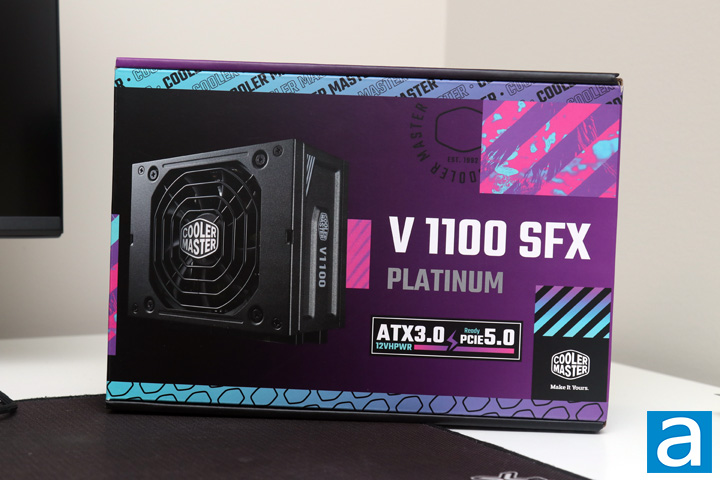 Taking a look at the retail container of the Cooler Master V SFX Platinum 1100W, you can see this power supply box looks very similar to other Cooler Master containers. With its purple and black theme with cyan accents, this looks very much like a Cooler Master product. At the top, we have the Cooler Master logo, followed by the product name in the middle right side. At the bottom, you can see we have two standards mentioned, including ATX 3.0 and PCIe 5.0. A scaled down image of the power supply can be found on the left side as well.
Before moving on, I have grabbed the specifications from the manufacturer's website for your perusal:
ATX Version: ATX3.0, SFX 12V Ver. 3.42
PFC: Active PFC
Input Voltage: 100-240V
Input Current: 14-6.5A
Input Frequency: 50-60Hz
Dimensions (L x W x H): 100 x 125 x 63.5 mm
Fan Size: 92mm
Fan Bearing: FDB
Efficiency: ≥ 92% @ Typical Load
80 PLUS Rating: 80 PLUS Platinum
ErP 2014 Lot 3: Yes
Operating Temperature: 0-50°C
Power Good Signal: 100 - 150 ms
Hold Up Time: ≥16ms at 70% Load
MTBF: >100,000 Hours
Protections: OVP, OPP, SCP, OCP, UVP, OTP, Surge and Inrush Protection
Regulatory: TUV, cTUVus, CE, FCC, BSMI, CCC, EAC, UKCA
ATX 24 Pin Connectors: 1
EPS 4+4 Pin Connectors: 1
EPS 8 Pin Connector: 1
SATA Connectors: 8
Peripheral 4 Pin Connectors: 4
PCI-e 6+2 Pin Connectors: 3
12VHPWR Connector: 1
Series: V SFX Series
80 Plus: Platinum
Modular: Full Modular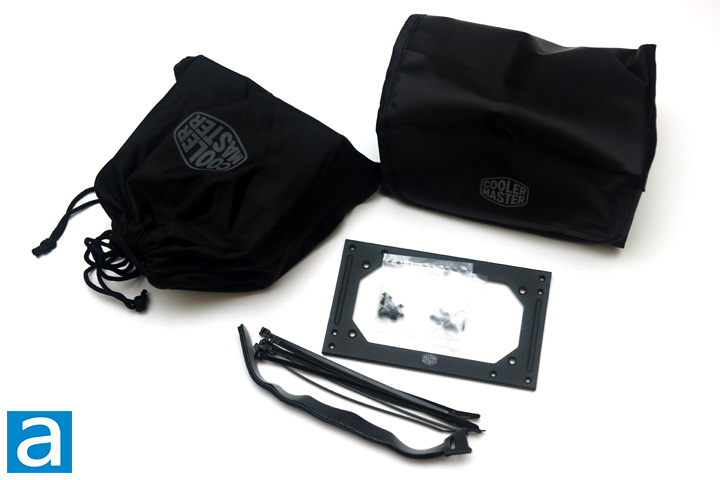 Out of the box, the Cooler Master V SFX Platinum 1100W is wrapped in a felt drawstring bag. It is packaged between two thick gray foam blocks to ensure the power supply is kept safe during the travel. All of the cables are in a clear resealable bag and packaged in a separate Velcro sealed fabric pouch with each cable separated by a twist-tie. In a third separate bag, Cooler Master has provided users with an SFX-to-ATX bracket, several cable ties, and a few Velcro straps. Finally, a bit of documentation is included. As we saw on the box, we do have a lengthy ten-year warranty included with the V SFX Platinum 1100W. The only other power supply in this lineup is a higher 1300W unit.
---
Page Index
1. Introduction, Packaging, Specifications
2.
Physical Look - Outside
3.
Physical Look - Inside
4.
Minor Tests and Conclusion