By: Jonathan Kwan
May 19, 2023
"I really wish [a certain friend] was coming with me on this trip," I said. "Why, is it because she is loud and annoying so she can keep you awake while you are driving?" My friend replied. I just laughed, mainly because while what he said seemed to make sense to those who know us, it was really because she is one of the few people I would trust my car with. Sometimes, what appears to be the reason may not be the actual reason, and the actual reason may be simpler than one thinks. When it comes to power supplies, FSP's Hydro series has been around for a number of years now. In 2016, we covered the first of the series, the Hydro G 850W. The "hydro" part of the name actually referred to its hydro dynamic bearing fan, but there is also the water cooled Hydro PTM+, and later models like the Hydro G Pro and Hydro PTM Pro has a conformal coating against dust, stains, and humidity for reliable operation harsh environments. Today, we have the latest in the series, the Hydro PTM X Pro 1000W. But what is special about it is not because it has a hydro dynamic bearing fan or a conformal coating -- it has both -- nor water cooling capabilities, which is unnecessary -- but for the simple fact this is literally the shortest ATX PSU I have ever seen in the history of this website at 13cm. You might think this is a SilverStone thing, especially with models like the HELA 1300R Platinum 1300W, but FSP has managed to squeeze a kilowatt into this fully modular Platinum-grade unit with ATX 3.0 and PCIe 5.0 support. What is inside it, and will it perform as well as its predecessors? Read on to find out!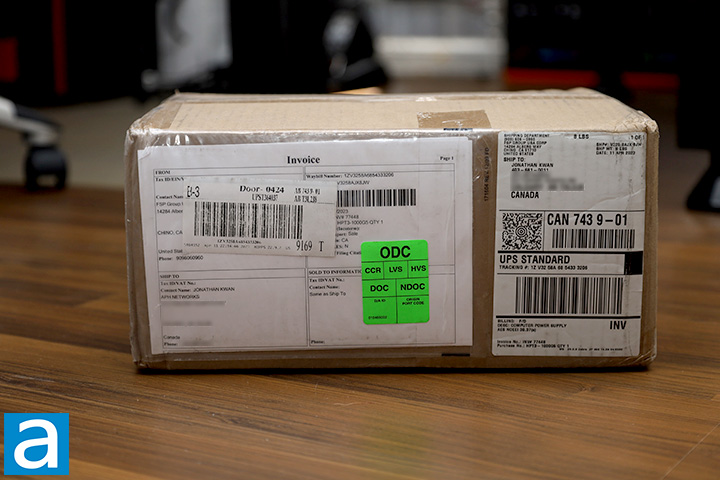 Our review unit of the FSP Hydro PTM X Pro 1000W arrived in a medium-sized brown corrugated cardboard box from the company's American headquarters in Chino, California, USA. Using UPS Standard, our Hydro PTM X Pro 1000W arrived in excellent condition to us here in Calgary, Alberta, Canada for our review today.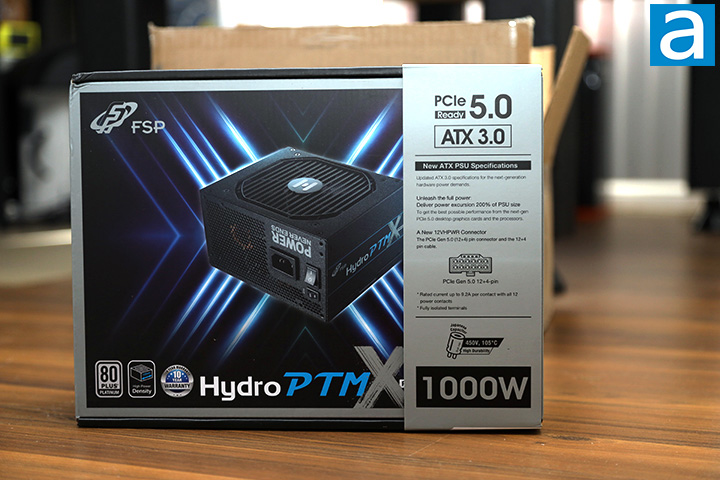 Inside the shipping box is the FSP Hydro PTM X Pro 1000W's retail box. The retail box design is from the same template as the FSP Hydro G Pro 1000W and Hydro PTM Pro 1200W we have previously reviewed. As you can see in our above photo, the photo of the power supply itself is shown prominently in front of a science fiction-themed "X" background. Otherwise, the gray-and-black color scheme is reserved and pragmatic. FSP's logo is printed at the top left corner, while the PTM X Pro branding and 1000W rating is seen at the bottom. An array of icons at the bottom shows off its features. This includes an 80 Plus Platinum badge, high power density, and 10-year warranty. Other indicators on the box include the 450V, 105c Japanese capacitor, ATX 3.0, and PCIe 5.0 certifications. The latter two is further elaborated on a band that wraps around the box. The remaining sides have a little more detail in presentation, which you will find more photos, feature highlights, performance graphs, and specifications.
Before we move on, let us take a look at the specifications of the FSP Hydro PTM X Pro 1000W, as obtained from the manufacturer's website:
Model: HPT3-1000M
Rated Output Power: 1000W
Form Factor: ATX
80 PLUS Certification: Platinum
Input Voltage: 100-240V
Input Current: 13-6A
Input Frequency: 50-60Hz
PFC: Active PFC
Efficiency: 92%
Fan Type: FDB fan, 120mm
Dimensions(L x W x H): 130×150×86 mm
Operation Temp.: 100,000 Hrs
Protection: OCP,OVP OPP, SCP, OTP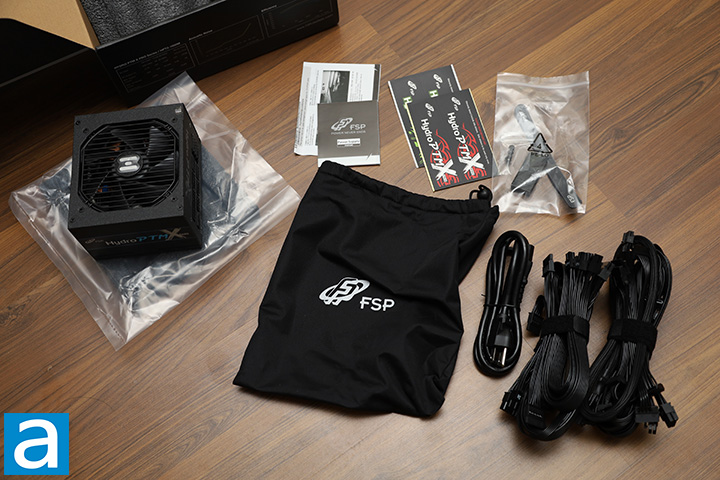 The FSP Hydro PTM X Pro 1000W's retail packaging can be opened by a flap attached at the side. Upon opening the box, you will find everything neatly organized. The power supply is securely clipped between two foam brackets. All cables are located inside a black drawstring bag. Out of the box, you will receive the Hydro PTM X Pro 1000W power supply itself, modular cables, AC power cable, power supply jump starter, four screws, three Velcro straps, 12VHPWR installation insert, product manual, and some stickers. Everything is presented well and appropriate for a PSU of this class.
---
Page Index
1. Introduction, Packaging, Specifications
2.
Physical Look - Outside
3.
Physical Look - Inside
4.
Minor Tests and Conclusion