By: Jonathan Kwan
September 15, 2023
Do all engineers behave the same? I was at Costco recently comparing the price for Ziploc bags. There were three packages available for purchase, including a set of large, small, or a combination of the two. I got curious and wondered if it cost more to buy the large and small separately or just picking up the combination pack. As I was standing there thinking, I saw another person with his phone out, strolling back and forth along the aisle while looking at the price tags. I was pretty sure he was doing the same thing as me, so I started a conversation with him. "Are you trying to compare the prices?" I said. "Yes," he said, and proceeded to explain to me his formulas and calculations. In the end, we found the combination pack was a fraction of a cent per bag more than buying them separately after weighing out the quantity, but who needs a thousand Ziploc bags? We ended up settling on the combination pack, but what really got me curious was whether he was an engineer or not, so I asked. To nobody's surprise, he said he is an electrical engineer just like me. We just laughed about how only engineers would spend so much time trying to figure out fractional price differences; all I can say is we simply could not hide our roots. Recently, Crucial released their Crucial P5 Plus NVMe SSD with a heatsink. We already covered the P5 Plus 1TB back in 2021. The latest release still uses Micron's B47R 176-layer triple-level cells and has the exact same specifications. So to put a twist to it, I asked for the 2TB model with the heatsink. But is it still the same thing under the hood like how all engineers are the same? We tested one to find out.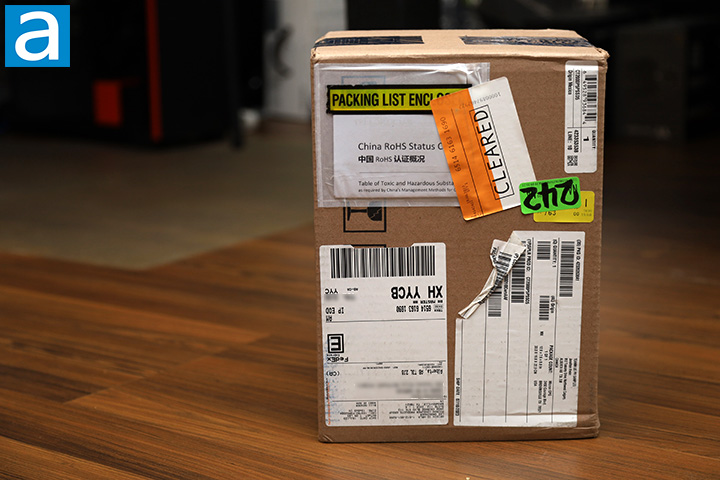 Our review unit of the Crucial P5 Plus 2TB arrived in a medium-sized brown corrugated cardboard box from Brownsville, Texas, which is nowhere near any Micron offices. However, this is where Avant Technology is located, which Micron partners with. Using the FedEx International Priority service, everything arrived in excellent condition to us here in Calgary, Alberta, Canada for our review today.
Crucial's retail package designs have always been about business, and the P5 Plus with heatsink is no different. The simple, environmentally friendly box is revised with a different shape and size compared to what we have seen before. This relatively compact hanging box delivers the SSD into the hands of consumers with miscellaneous information printed on the back. As you can see in our photo above, the box art evokes a strong business feel. A photo of the Crucial P5 Plus NVMe SSD is shown in front of a white background. At the top, you will find Crucial's logo. Across the center inside a teal band, you will find the P5 Plus model name. Its product description, PCIe 4.0 NVMe M.2 SSD, and a sticker indicating its speed and capacity are located in various areas.
Before we move on, let us take a look at the specifications of the Crucial P5 Plus 2TB, as obtained from the manufacturer's website:
Reliability (MTTF): 2 million hours
Endurance: 2TB SSD = 1200TB (TBW)
Data Transfer Software: Acronis True Image for Crucial cloning software
Operating Temperature: 0 °C to 70 °C
Compliance: UKCA, CE, FCC, VCCI, KC, RCM, ICES, Morocco, BSMI, Ukraine, UL, TUV, China RoHS, WEEE, Halogen Free
Advanced Features:
- Dynamic write acceleration
- Redundant array of independent NAND (RAIN)
- Multistep data integrity algorithms
- Adaptive thermal protection
- Integrated power loss immunity
- Active garbage collection
- TRIM support
- NVMe standard self-monitoring and reporting technology (SMART)
- Error correction code (ECC)
- NVMe autonomous power state transition (APST) support
- Device sleep support
- Full-drive encryption capable (TCG OPAL 2.0)
Warranty: Limited five-year warranty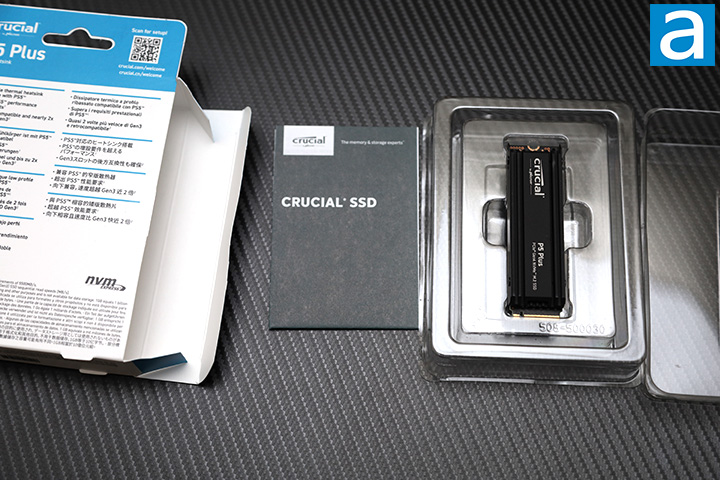 Opening the box reveals the Crucial P5 Plus 2TB itself and a screw placed on a clear plastic tray. There is also a multi-language quick start guide that points you to the company's website. This is it -- out of the box, you will get nothing more than what you need. Not that we need them anyway, of course.
---
Page Index
1. Introduction, Packaging, Specifications
2.
A Closer Look, Test System
3.
Benchmark: AIDA64 Disk Benchmark
4.
Benchmark: ATTO Disk Benchmark
5.
Benchmark: Crystal Disk Mark 8.0
6.
Benchmark: HD Tune Pro 5.70
7.
Benchmark: PassMark PerformanceTest 10
8.
Benchmark: PCMark 10
9.
Benchmark: 3DMark
10.
Conclusion