By: Ben Joubert
September 22, 2023
Calgary has an amazing summer season. The weather is warm but not too hot. The mountains are beautiful and there is so much to explore. The evenings in general cool off quite nicely. And if you are a car nut, then you have even more to enjoy. Summer in Calgary brings out the many different sports cars that people own but cannot drive in the winter. Especially in certain quadrants of the city, particularly the southwest area, it is not uncommon to see more than a few fancy cars driving around. I am sure for some, this is a cool experience, but I personally cannot relate. I do not understand sports cars, partly because I am not a big car fan. In fact, I find sports cars to be a frustrating sight. They are ridiculously expensive and unwieldy, especially in Calgary. You can only drive them in the summer, which is still short despite how nice it is, and you cannot even drive them as fast as they are designed to be driven. To me, at least, they are a walking, or I guess driving, paradox -- a confusing amalgamation of price and impracticality. Computers can be like this as well. There are so many accessories and customization options. However, they do not cost hundreds of thousands of dollars like cars. It makes more sense for this hobby, at least to me. I do enjoy the aesthetic side of building a system, but it has become a far second to the practicality of what my PC does for my needs. When I received the Thermaltake Ceres 300 TG ARGB, I was quite impressed at initial glance. First impressions demonstrate it is a well-designed and good-looking chassis; something that I think strikes a good balance. But let us find out if it really is as practical as it seems.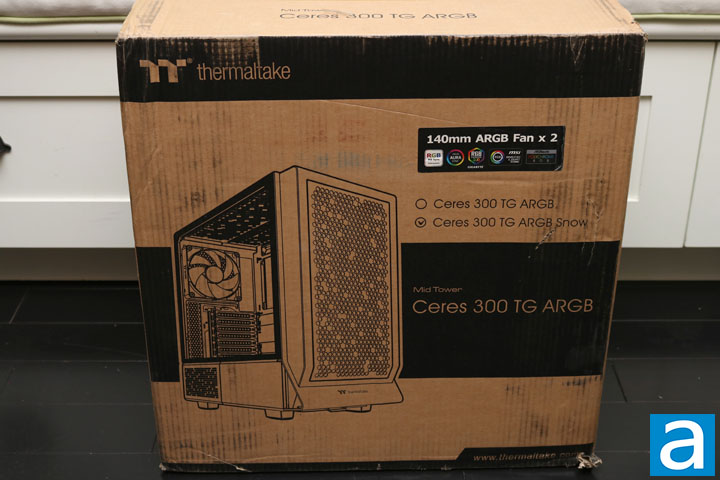 The Thermaltake Ceres 300 TG ARGB arrived from California via UPS Standard to our APH Networks offices here in Calgary, Alberta, Canada. It was a long journey, and it shows a bit on the shipping box, which is also the retail box. As usual, the corners and edges took the brunt of the damage, with one corner being particularly crushed. Cases are less simple to ship in general with their weight and size, but hopefully the padding inside provides the necessary protection to the contents.
In the above picture, you can also see the features Thermaltake wants to highlight. A graphic of what the case looks like is placed out front with the version indicated next to it. We have the Snow version of the mid-tower, which means it is white. There is also a black version available to buy. Both are equipped with two 140mm ARGB fans, which are compatible with all major motherboard manufacturers' RGB lighting controllers. These are all indicated on the front. One side of the box carries the specifications of the Ceres 300 TG ARGB Snow, while the other sides feature a simple graphic of the case.
Before we move on, here are the specifications as obtained from the manufacturer's website:
Series: Ceres
Case Type: Mid Tower
Dimensions (H X W X D): 475 x 245 x 463 mm, (18.7 x 9.65 x 18.23 inch)
Net Weight: 7.8 kg / 17.2 lbs.
Panel: 4mm Tempered Glass x 1
Color: White
Material: SPCC
Cooling System:
Front (intake): 140 x 140 x 25 mm CT140 ARGB
White fan: (1500rpm, 30.5 dBA) x 2
Rear (exhaust): 140 x 140 x 25 mm CT140
White fan: (1500rpm, 30.5 dBA) x 1
Drive Bays: 1 x 3.5" or 2 x 2.5"
Expansion Slots: 7 (Rotatable Patented Design)
Motherboards: 6.7" x 6.7" (Mini ITX), 9.6" x 9.6" (Micro ATX), 12" x 9.6" (ATX), 12" x 13", (E-ATX)
I/O Port: USB 3.2 (Gen 2) Type-C x 1, USB 3.0 x 2, HD Audio x 1
PSU: Standard PS2 PSU (optional)
Fan Support:
Front:
- 3 x 120mm, 2 x 120mm, 1 x 120mm
- 2 x 140mm, 1 x 140mm
Top:
- 3 x 120mm, 2 x 120mm, 1 x 120mm
- 2 x 140mm, 1 x 140mm
Rear:
- 1 x 120mm, 1 x 140mm
Radiator Support:
Front:
- 1 x 360mm, 1 x 240mm, 1 x 120mm
- 1 x 280mm, 1 x 140mm
Top:
- 1 x 240mm, 1 x 120mm
- 1 x 280mm, 1 x 140mm
Rear:
- 1 x 120mm
Clearance:
CPU cooler max height: 185mm
VGA max length: 340mm (with radiator), 370mm (without radiator)
PSU max length: 220mm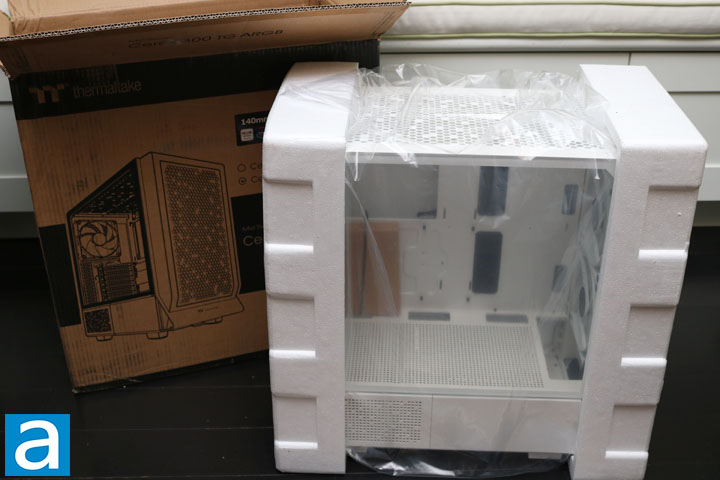 The Thermaltake Ceres 300 ARGB Snow is wrapped in a plastic bag with two large Styrofoam blocks protecting it from any bumps or bruises. The plastic bag prevents any surface damage to the glass or paint, and has done its job well despite what happened to the box. Screws and other parts are located inside. As with most cases, the packaging is simple, but is able to protect the case well through shipping.
---
Page Index
1. Introduction, Packaging, Specifications
2.
Physical Look - Outside
3.
Physical Look - Inside
4.
Installation and Conclusion