By: Aaron Lai
September 1, 2023
A few weeks back, I was lamenting over the cost of fixing my car. I had taken my car to the dealership for regular maintenance, and they found several leaks. I knew they were going to find them, as I too had observed some liquids dripping out the bottom of my car for the past week or two. Confirming my fears, they read out the issues as well as the damage to my wallet. At that point, I was concerned about driving the vehicle, but I was also worried about looking for a reliable mechanic elsewhere. As such, I coughed up the cash and let them take my car for another two days. On one hand, I knew it was likely I would get a satisfactory fix that would be guaranteed should any other issues spring up down the road. I also was given a complimentary car to drive while they had mine in the shop. On the other hand, it was clear they charged me way more than what a third-party mechanic would cost. I would not call it predatory, but it hurt nonetheless. In hindsight, I wish I had taken some more time to find a trusted mechanic several years back, so that I would not have to wait till a moment like this to scramble. Thankfully, when it comes to consumer electronics, I have not had to be in the same situation. I have had a few things fail on me over the years, but I usually have my own hardware to replace it. As well, with an abundance of products sitting in my queue, I usually replace things long before they even die. Today, I have the privilege of looking at the Netac NV7000-t 1TB. I may not need a storage replacement immediately, but this one is marketed as a speedy, DRAM-less PCIe 4.0x4 drive while still being affordable. Will it turn out to be a solid value option, or will I be left wanting to return to a more recognizable SSD manufacturer? Let us read on to find out!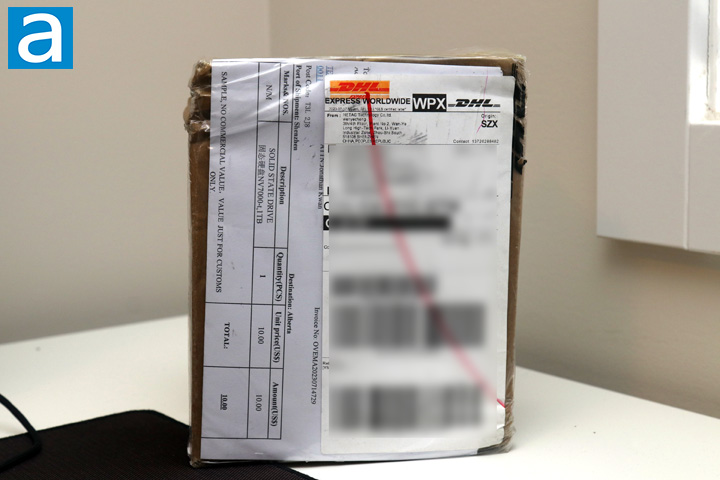 Today's review unit of the Netac NV7000-t 1TB arrived from Netac's offices in Shenzhen, People's Republic of China. Shenzhen is located in the province of Guangdong and is well known as a tech hub in China. In fact, other company's headquarters are located here, including Huawei and Tencent. Otherwise, this box was sent via DHL's Express Worldwide service, and it arrived in relatively good condition. There are several dents on one corner of the box, but our shipper wrapped the inner contents in a large loop of bubble wrap for further protection.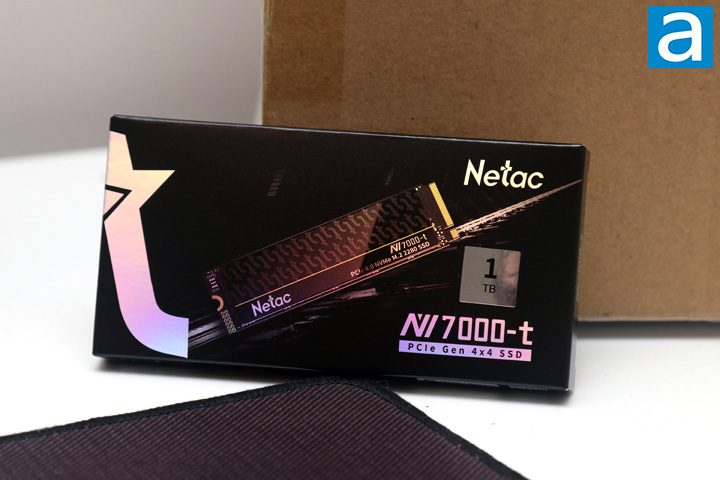 As you can see, we have a very small box holding the Netac NV7000-t 1TB. It has been a while since I have marveled at a retail container, but I really like the reflective and shiny portions of this box. This is why you can see the shimmer in the photo, as the large "t" on the side, brand logo, product name, and the product itself is given the shimmery effect. The 1TB logo on the front is a sticker, as the NV7000-t is available in 512GB and 2TB capacities too. Otherwise, you can see from the front this is a PCIe Gen 4x4 SSD. Around the back, we have a few things in other languages, but I feel like the polish and finish on this box is really above what I might have expected for a brand I have not heard about until recently. Impressive as the box may be, it is time to move on.
Before we do, I have grabbed the specifications from the manufacturer's website for your perusal:
Brand: Netac
Interface: M.2 2280
Channel: PCIe Gen4x4
Capacity: 1TB
Seq. Read (MB/s) up to: 7300
Seq. Write (MB/s) up to: 6600
TBW: 640
NAND Flash: 3D NAND Flash
Operating Temperature: 0℃-70℃
Storage Temperature: -40℃-85℃
Size: 20*80*2.3 mm
Warranty: 5 years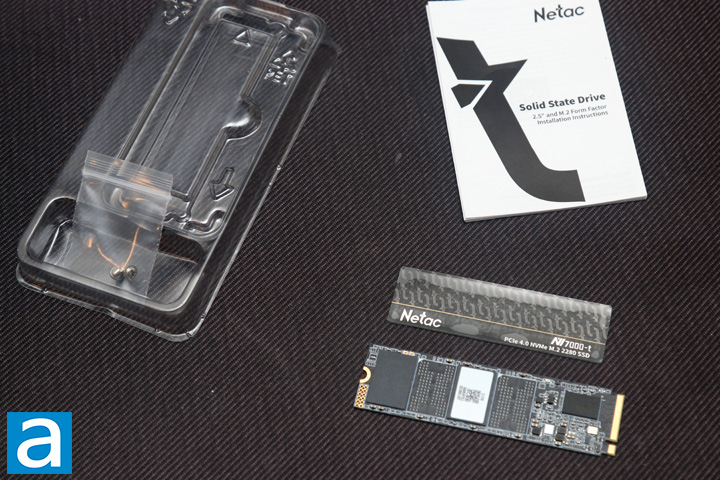 The Netac NV7000-t is packaged well inside the retail container, with the NVMe SSD sandwiched between two plastic trays. Along with the drive, we also have a thin metal heatsink which adheres to the drive as well as a resealable bag with two screws to mount the drive. We also have a user manual for the SSD, although it is a generic one for both M.2 and 2.5" form factors, so do be sure to follow the correct instructions.
---
Page Index
1. Introduction, Packaging, Specifications
2.
A Closer Look, Test System
3.
Benchmark: AIDA64 Disk Benchmark
4.
Benchmark: ATTO Disk Benchmark
5.
Benchmark: Crystal Disk Mark 8.0
6.
Benchmark: HD Tune Pro 5.70
7.
Benchmark: PassMark PerformanceTest 10
8.
Benchmark: PCMark 10
9.
Benchmark: 3DMark
10.
Conclusion